Monique did a dynamic job performing the roles of Natasha Lytess & Paula Strasberg, 2 of Marilyn Monroe's acting coaches, in MARILYN – MY SECRET at Macha Theatre.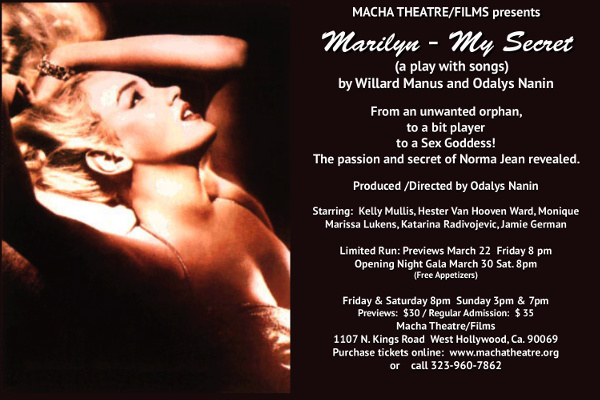 Reviews:
Monique Marissa Lukens gives gut-wrenchingly heartfelt performances in two roles … playing Natasha Lytess, and Paula Strasberg, Monroe's mentor and acting coach.

Monique Marissa Lukens is appropriately hammy as the two domineering women in Monroe's life, acting coaches Natasha Lytess and Paula Strasberg.

Monique Marissa Lukens plays both Natasha Lytess, Marilyn's first acting coach, and her last, Paula Strasberg, wife of Lee. Paula is amusingly covered in black, including head scarf and sunglasses, which isn't that far from the way Paula often appeared, being the avatar of serious drama.